hey! could you check them out on the site and let me know?
you can view the notes without payment if I'm not mistaken. let me know if u couldn't
Hello to you too! I did check the site and the notes online: some titles are different.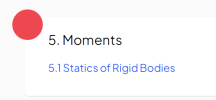 These are the topics that are currently missing in Edexcel A Level Mathematics: Mechanics 2, in your Drive. In their individual online notes, they have the "Download PDF". Have you tried each of the topics above? Or do they link to the same pdf?