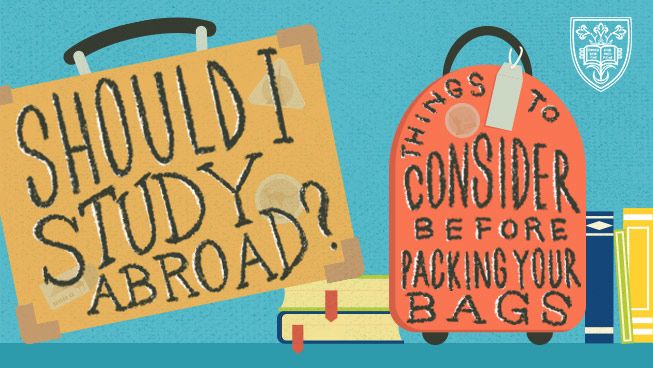 Things to consider before you apply abroad!
​
Why study abroad?
The popularity of study abroad programs is growing for a variety of reasons. Gaining a top-notch education, becoming immersed in a new culture (and frequently a second language), developing a global attitude, and improving future work opportunities are probably what attracts the majority of international students. Although leaving home and venturing into the unknown can be frightening for some, studying abroad is also an exhilarating challenge that frequently results in better professional possibilities and a deeper grasp of how the world operates. Your study abroad experience can vary greatly depending on where you go, so be sure to choose a location based on both your interests and the opportunities it offers.
Where should I pursue my education?
Deciding where in the world to study is not always simple. Along with your particular interests, you should consider practical matters like the costs of studying there (both tuition fees and living expenses), the chances for your future profession after graduation (is there a strong job market?), and your general safety and welfare.
You should consider your desired lifestyle during your schooling as well. Do you prefer living in a large city or a small town with a university? Do you prefer to live near world-class athletic facilities or the arts and culture? Whatever your interests, make careful decisions to align them with where you plan to study so that you can give yourself the best opportunity to enjoy your travels. Australia, Canada, Germany, the United Kingdom, and the United States are some of the most popular travel places if you need inspiration.
What's the first step?
If you haven't already done so, once you've decided where you want to attend school, you should consider a program and a university. Using the QS World University Rankings®, you may explore top institutions, find the universities that are the finest in your field, and examine national rankings of universities in the location of your choice. Following that, you should carefully examine the courses provided by the institutions on your short list, as well as conduct research on the surrounding area and way of life, admission standards, and fees. When you've made up your mind about your program and university, you should start planning your application (s). The university and country have different application procedures; however, on the official website of each institution, you can usually find complete instructions on how to submit your application. For international students, there may be a two-step application procedure. These call for the submission of two applications: one for admission to the institution and the other for enrollment in the course. The university website ought to make this obvious. You should get in touch with your preferred university immediately if you still have questions about the application process. In most circumstances, you won't be able to apply for a student visa until you get a letter of admission from your desired university, so keep that in mind if you believe you might require one. As much time as you can give should be given to each stage because it can take several months.
What is the deadline for study abroad applications?
The best course of action is to take into account your application as soon as feasible. After all, you can plan your travels as soon as you learn whether you've been accepted to a university. To avoid disappointment, mark your calendar with all application deadlines (as specified by your preferred university). Depending on the school, application dates will vary, but in general, applications for programs beginning in the fall (September or October) will be accepted from the beginning of the year (January or February) until the middle of the year (June or July).
What criteria must you meet to enroll in a study abroad program?
Check the details provided by your chosen university before submitting anything because entry requirements differ significantly across universities and between nations. Generally speaking, however, if you are applying for an undergraduate degree, you will be asked to demonstrate that you have finished your secondary education to a standard that is in line with the required grades (for example, your GPA, A-level grades, or equivalent) for the program you are applying to. If you hold an international degree and are unsure if it will be accepted, you should speak with the university's admissions office. It's also very possible that if you're a non-native English speaker who wants to study in an English-speaking country, you'll need to present proof by taking a test of your English language competence, such as the TOEFL or IELTS. For people learning other languages, similar exams can be necessary. Refer to question eight for more details on language tests.
What supporting documents must I include with my application?
As part of your application, you might need to submit certain supporting material. Again, criteria differ by nation and institution; however, the following is frequently requested of overseas students:
Photos for identification in passports
A purpose statement
CV/résumé
Academic testimonials and letters of support
Certificates and secondary school transcripts
For schools in English-speaking nations, proof of English language ability (such as a TOEFL/IELTS certificate) or another language test. Results of admissions tests (for graduate programs, including GMAT/GRE scores)
Does speaking a second language qualify me to study abroad?
This depends on the nation you want to study in and the language used to teach your course. If you want to enroll in a course taught in English but are not a native English speaker, you must submit the results of an English language proficiency test as proof that you can communicate at a proficient level. This is to make sure you won't have any comprehension issues as you proceed through the course. Many other nations across the world also employ English as a language of instruction, particularly for graduate programs and business degrees. The university's website will include any English-taught courses available, and a centralized database that is periodically updated can be used to search for those courses by a federal organization. The TOEFL and IELTS are common exams considered evidence of English competence. There are equivalent exams in other languages if you need to demonstrate your language skills in addition to English, such as the DELF/DALF and TCF-DAP (French) or the DSF and Test DaF (German). To avoid wasting money on the wrong test, be cautious to check whether the results are approved by the institution you have chosen before taking a language test.
What should you do after receiving a letter of acceptance?
You're accepted, congrats! All that's left to do now is get ready for school, condense your entire existence into one (big) suitcase, organize your travel paperwork, apply for a student visa, check into your housing choices, and start looking for finance. Don't worry; it will all be worthwhile. You should start thinking about your travel documentation as soon as you are accepted by a university. Make sure you have a current passport, travel insurance, and, if necessary, a student visa. To be able to travel legally, make sure you have enough time to get your passport or visa authorized. For additional details, you should check the government website of your chosen country to locate information for travelers, visitors, and international students to learn what papers you'll need to travel (for example, Gov. UK for UK travel information). You should be able to get all the necessary travel information on these official websites. You could also seek advice from your university. Admissions offices will frequently assist you in planning your trip, and in some nations, they'll even submit your application for a student visa. However, make sure to check with your university; don't trust that someone else will take care of everything.
Do I need to submit a student visa application?
Many people who wish to know how to study abroad have concerns about student visas, even though not all international students will require one. You do not require a visa if you are an EU citizen and intend to study in another EU country, for example. But generally speaking, you'll probably need to apply for a student visa if you're from somewhere other than the region or continent in which your selected country is located. Typically, this only applies to longer overseas study programs; if your exchange is shorter, lasting three months or less, a tourist or guest visa may be sufficient.
Can you receive funding to study abroad?
However, there are a variety of alternative finance options available to make studying abroad more affordable, including scholarships, fellowships, studentships, sponsorships, grants, and bursaries. Many overseas students may find it challenging to obtain a student loan to pay for their education. The best location to learn about funding that applies to you may be at the university you've chosen, so be sure to look through the school's website or get in touch with them. Along with data on eligibility and application procedures, this is also where information about study abroad scholarships provided by the university and other outside organizations may be found. A lot of scholarships are awarded based on academic merit and are extremely competitive. Many funding sources target certain student populations, including students from underdeveloped nations and women studying subjects that are dominated by men.
Last edited by a moderator: